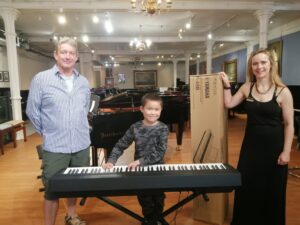 mjf2022 piano trail competition winners
We're delighted to announce the winners of the mjf piano traill 2022, delivered in partnership with the world renowned Forysth's Music Shop of Deansgate!
The top prize winner is nine year old Leo Cheung from Beswick who performed his own composition. On receiving his prize Leo said "Fantastic! I never dreamed I'd win first prize". The full list of prize winners is:
Special thank you to the Spinningfields branch of Wagamama for offering a £30 Wagamama gift voucher to each winner.
About the mjf 2022 piano trail
13 street pianos were dotted around the city for passers-by to play in the build up to this year's jazz festival. Over 2000 pianists, young and old bought the city alive with music and the search to find Manchester's best street pianist resulted in over 100 entries.  
The 13 pianos were located at The Arndale Centre, The Corn Exchange, Forsyth Music shop, Great Northern, Harvey Nichols, Manchester Art Gallery, Manchester Central Library, Manchester Piccadilly Station, Quayside Media City UK, Royal Exchange Arcade, Spinningfields, The Trafford Centre and Manchester Victoria Station.  
Praise for Leo and all the winners
"Congratulations Leo on winning this year's MJF Piano Trail competition! Your performance was fabulous and all of us at Yamaha were super impressed with your composition too! Enjoy your prize and keep playing, you'll be a star one day!"  – James Sargeant, Yamaha
"It's been a fun if tough job whittling down the many and varied competition entries to find the eventual winners. We were impressed with Leo's creativity and poise at the piano at such a young age! We are sure Leo will benefit from the Yamaha digital piano he has won and look forward to watching him grow as a composer and pianist!' – Emma Loat, Manager of Forsyth's Music
"Leo's skill and musicality combined with his amazing creativity impressed us all. He's a worthy winner of the mjf piano trail competition." – Steve Mead, Manchester Jazz Festival
We're delighted to reopen applications to 3 of our artist opportunities – mjf soundcheck, hothouse and originals.
We support and champion creative musicians – from Greater Manchester, across the north and internationally. mjf offers tailored development schemes and performance opportunities for every career stage, both at the festival and throughout the year. If you're working in jazz and improvised music – we have something for you.
We are interested in making an impact on artists, so we make sure we invite people onto the right schemes at the right time for them. All of our programmes generate new music, diversify the jazz sector and offer meaningful support where it is most needed.
If you're a musician based in Greater Manchester, aged 18-25, and want to explore improvisation for the first time, take a look at mjf soundcheck. The FREE, 8-week programme supports musicians to try out new things and be supported to grow creatively, through 1-1's with a mentor, links with Industry Professionals and more.
Mid-career artists based in the north, who are encountering barriers to creative development and want to experiment with new musical concepts, might apply to mjf hothouse to take their career to the next level. This PAID 6-month programme includes working alongside a mentor, personalised workshops, up to £2,300 cash for the creation of new work and an industry showcase.
For a commission to produce a major brand-new piece for the festival, head to mjf originals. Through this you will be supported to create a large-scale, contemporary, boundary-pushing new work with northern artists.
There are no upper age limits for originals or hothouse.
Alongside these opportunities, applications to perform at mjf2023 are also open and accepting submissions. If you want to be considered for the 2023 programme, please submit via the artists' submissions by December.
mjf 2022 ran from 20 – 29 may 2022 at venues and sites across Manchester, including a free opening weekend at Escape to Freight Island, weekday gigs at St Ann's Church, nightly gigs at Matt & Phreds, events at Forsyth Music and at The Yard with partners NQ Jazz, and close with an extended weekend-long party at Band on the Wall.
Some highlights from the 10 days include:
Nubya Garcia wowed a full house at Band on the Wall with her spiritual connectivity, and Ayanna Witter Johnson inspired with her compelling cello stories of history and hope
The Richard Jones Trio exemplified the very best in Manchester's new talent with their exploratory compositions;
Anthony Joseph delivered a powerful statement of intent on cultural identity at The Yard, with NQJazz
Intergalactic Brasstronauts rock-steadied us beyond the stratosphere at Escape to Freight Island
Skylla's harmonics other-worldly resounded throughout St Ann's Church
The James Pearson Trio gave us a sophisticated insight into the artistry of Oscar Peterson in Forsyths' showroom
Heavy Beat Brass Band gave the M&Ps dancefloor a workout to remember
Our Piano trail brought interactive music-making to 13 public locations across Manchester, tempted by winning the first prize of a grand piano!
2 public realm new commissions changed our perspective on how we experience music in the public realm: Ruby Tingle celebrated Manchester's water features in Fountainia, this year's mjf originals work, and Lara Jones invited audiences to step inside her geodesic dome at Piccadilly Station and reflect on our relationships with journeys in Ensō+.
Put mjf23 in your diaries: 19-28 May 2023