Soundcheck is now in its third year and we are once again opening our doors to the best young Jazz Musicians. Click HERE to learn more about each as well as the programme itself.
On the 23rd October, our 10 soundcheck artists gathered at The Met, Bury to work on their pieces for the programme. The day ran from 3-10, testing the soundcheckers' stamina, stealth & skill. In groups of three, each had a designated 2 hours with Ed Kainyek & his talented band to practise, improvise &…JAM! For some this was their first time performing with a full band and we were so incredibly proud of not just their boldness but openness to the process.
The rest of the day was jam packed with workshops from not only our Artistic Director Steve Mead, but the accomplished cellist, Gary Washington & 'hypnotic & heart skipping' Jazz Artist & creative producer, Kirsty Almeida.
Follow our socials to see what these bright young musicians do next!
We are deeply saddened to hear of the death of Her Majesty The Queen.
HM The Queen was a steadfast supporter of the arts, and of music in particular, and was, surprisingly, a noted jazz and blues fan. She met and honoured many of our music's leading exponents, from Duke Ellington to Dame Cleo Laine, Gary Crosby and the late John Cumming.
At their meeting at Leeds Civic Hall in 1958, Duke Ellington was inspired to compose The Queen's Suite for her, which remained unheard by the general public until 1976. Gary Crosby OBE, who joined us earlier this year as a guest on mjf's Fantasy Festival podcast, speaks of his surprise and joy at their recent discussion about amplifying acoustic instruments.
We will all have our own thoughts and recollections on the impact of her remarkable reign and its legacy. Our thoughts and condolences are with the Royal Family, and with all those touched by her passing, at this very sad time.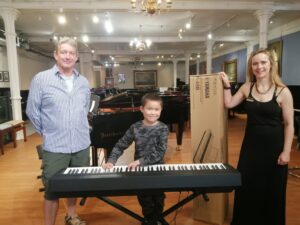 mjf2022 piano trail competition winners
We're delighted to announce the winners of the mjf piano traill 2022, delivered in partnership with the world renowned Forysth's Music Shop of Deansgate!
The top prize winner is nine year old Leo Cheung from Beswick who performed his own composition. On receiving his prize Leo said "Fantastic! I never dreamed I'd win first prize". The full list of prize winners is:
Special thank you to the Spinningfields branch of Wagamama for offering a £30 Wagamama gift voucher to each winner.
About the mjf 2022 piano trail
13 street pianos were dotted around the city for passers-by to play in the build up to this year's jazz festival. Over 2000 pianists, young and old bought the city alive with music and the search to find Manchester's best street pianist resulted in over 100 entries.  
The 13 pianos were located at The Arndale Centre, The Corn Exchange, Forsyth Music shop, Great Northern, Harvey Nichols, Manchester Art Gallery, Manchester Central Library, Manchester Piccadilly Station, Quayside Media City UK, Royal Exchange Arcade, Spinningfields, The Trafford Centre and Manchester Victoria Station.  
Praise for Leo and all the winners
"Congratulations Leo on winning this year's MJF Piano Trail competition! Your performance was fabulous and all of us at Yamaha were super impressed with your composition too! Enjoy your prize and keep playing, you'll be a star one day!"  – James Sargeant, Yamaha
"It's been a fun if tough job whittling down the many and varied competition entries to find the eventual winners. We were impressed with Leo's creativity and poise at the piano at such a young age! We are sure Leo will benefit from the Yamaha digital piano he has won and look forward to watching him grow as a composer and pianist!' – Emma Loat, Manager of Forsyth's Music
"Leo's skill and musicality combined with his amazing creativity impressed us all. He's a worthy winner of the mjf piano trail competition." – Steve Mead, Manchester Jazz Festival
We're delighted to reopen applications to 3 of our artist opportunities – mjf soundcheck, hothouse and originals.
We support and champion creative musicians – from Greater Manchester, across the north and internationally. mjf offers tailored development schemes and performance opportunities for every career stage, both at the festival and throughout the year. If you're working in jazz and improvised music – we have something for you.
We are interested in making an impact on artists, so we make sure we invite people onto the right schemes at the right time for them. All of our programmes generate new music, diversify the jazz sector and offer meaningful support where it is most needed.
If you're a musician based in Greater Manchester, aged 18-25, and want to explore improvisation for the first time, take a look at mjf soundcheck. The FREE, 8-week programme supports musicians to try out new things and be supported to grow creatively, through 1-1's with a mentor, links with Industry Professionals and more.
Mid-career artists based in the north, who are encountering barriers to creative development and want to experiment with new musical concepts, might apply to mjf hothouse to take their career to the next level. This PAID 6-month programme includes working alongside a mentor, personalised workshops, up to £2,300 cash for the creation of new work and an industry showcase.
For a commission to produce a major brand-new piece for the festival, head to mjf originals. Through this you will be supported to create a large-scale, contemporary, boundary-pushing new work with northern artists.
There are no upper age limits for originals or hothouse.
Alongside these opportunities, applications to perform at mjf2023 are also open and accepting submissions. If you want to be considered for the 2023 programme, please submit via the artists' submissions by December.
mjf 2022 ran from 20 – 29 may 2022 at venues and sites across Manchester, including a free opening weekend at Escape to Freight Island, weekday gigs at St Ann's Church, nightly gigs at Matt & Phreds, events at Forsyth Music and at The Yard with partners NQ Jazz, and close with an extended weekend-long party at Band on the Wall.
Some highlights from the 10 days include:
Nubya Garcia wowed a full house at Band on the Wall with her spiritual connectivity, and Ayanna Witter Johnson inspired with her compelling cello stories of history and hope
The Richard Jones Trio exemplified the very best in Manchester's new talent with their exploratory compositions;
Anthony Joseph delivered a powerful statement of intent on cultural identity at The Yard, with NQJazz
Intergalactic Brasstronauts rock-steadied us beyond the stratosphere at Escape to Freight Island
Skylla's harmonics other-worldly resounded throughout St Ann's Church
The James Pearson Trio gave us a sophisticated insight into the artistry of Oscar Peterson in Forsyths' showroom
Heavy Beat Brass Band gave the M&Ps dancefloor a workout to remember
Our Piano trail brought interactive music-making to 13 public locations across Manchester, tempted by winning the first prize of a grand piano!
2 public realm new commissions changed our perspective on how we experience music in the public realm: Ruby Tingle celebrated Manchester's water features in Fountainia, this year's mjf originals work, and Lara Jones invited audiences to step inside her geodesic dome at Piccadilly Station and reflect on our relationships with journeys in Ensō+.
Put mjf23 in your diaries: 19-28 May 2023
Check out the mjf2022 gallery here
The #mjfpianotrail competition with Forsyth Music Shop is now closed. It's been a great month of music-making around Manchester city-centre, and it's really brightened our moods – much as we hope it has yours. Now we just need to decide on some winners… to be announced late June 2022.
Thanks to all of our piano trail partners: Manchester Arndale, Corn Exchange MCR, Döner Haus, Manchester Art Gallery, Manchester Central Library, Piccadilly Station, Quayside MediaCityUK, Spinningfields Manchester, Great Northern Warehouse , Trafford Centre, Royal Exchange Manchester, Victoria Station and Harvey Nichols.
manchester jazz festival and Forsyth's music shop are on the hunt for Manchester's most entertaining street pianist as a trail of 13 street pianos are placed across the city this week.
From May 6 – 29, the mjf piano trail will see pianos dotted throughout Manchester available for all passers-by to play.
And for those who think they can give Elton John a run for his money, a competition to find Manchester's best street pianists will also run with a whole raft of prizes up for grabs including a Yamaha P-45B piano, return ticket for 4 anywhere on the Northern Rail Network, a gift package and vouchers worth over £100 from Quayside Media City UK and a £30 Wagamama voucher for each prize winner.
Technical talent or formal training is not necessary, and the competition is open to all from concert pianists to the occasional ivory tickler.
The mjf piano trail, delivered in partnership with the world renowned Forysth's Music shop of Deansgate, is part of mjf2022 which will take place at venues across the city from May 20 – 29.
From May 6, pianos will be located at The Arndale Centre, The Corn Exchange, Forsyth Music shop, Great Northern, Harvey Nichols, Manchester Art Gallery, Manchester Central Library, Manchester Piccadilly Station, Quayside Media City UK, Royal Exchange Arcade, Spinningfields, The Trafford Centre, and Manchester Victoria Station.
Emma Loat, Manager of Forsyth's Music, said: "For many years, we've had a street piano at the front of the Forsyth's shop on Deansgate so we know that Manchester and the surrounding areas is full of talented musicians and those willing to have a go.
"We're really excited to supply 13 pianos for the mjf piano trail and we'd urge all those budding performers to come forward, have a go and be in with a chance of winning some fantastic prizes."
To be in with a chance to be named one of Manchester's best street pianists, simply find one of the pianos in the trail, capture a short video of your performance and post the video to your Instagram, Facebook or Twitter account, tagging in @manchesterjazzfestival / @manjazzfest and using the hashtag #mjfpianotrail
Whether you play professional jazz or have never touched a note before there are no rules regarding who can apply, what kind of music you play and what your performance involves.
At the end of the piano trail mjf and Forsyth's will select 9 winners based on who showed the most creativity, ingenuity and gave the best performances.
The prizes up for grabs are:
– Yamaha: Yamaha Digital Piano P-45B
– A £30 Wagamama gift voucher for all winners
– Doner Haus: Meal for up to 4 including pre/post drink
– Lion's Den, Deansgate Mews: £50 bar tab
– Manchester Art Gallery: Afternoon Tea for two
– Jenny Jones: a pair of saxophone cufflinks or a soul stone necklace
– 20 Stories: Afternoon tea for two with a glass of fizz
– The Lawn Club: A complimentary pod booking and a bottle of Prosecco, for up to six people.
– Northern Rail: Four tickets at any time to anywhere on Northern rail network
– Quayside MediaCityUK: prize package includes:
• 2 x £25 Quayside Gift Card
• Two lots of two tickets to Vue Cinema
• Copy of Salford Edition Monopoly
• Two lots of two tickets for ITV Jungle Challenge
An immersive celebration of rail and water is set to hit Manchester this May, in the form mjf originals commissions.
Staged as part of mjf2022 and supported by Jerwood Arts, sax player, electronic musician and mjf hothouse alumni Lara Jones will perform her new work titled Ensō in a specially-constructed geodesic dome in Manchester Piccadilly station from May 19 – 22.  
Audiences can enjoy free performances of the immersive, cinematic audio-visual experience based on Lara's harrowing field recordings of train journey's to loved ones. 
Her work is supported through the Cheltenham Jazz Festival Jerwood Jazz Encounters Programme, co-commissioned by Manchester Jazz Festival and funded by Jerwood Arts.
photos: Jess Rose
On May 27 and 28, audio visual artist and performer Ruby Tingle will present Fountainia, her new music inspired by Manchester's unique relationship with water, particularly its public water features.
The free, evening performances will take place in Barbirolli Square next to the Bridgewater Hall and feature jazz and electronic artists in new songs that fuse live and pre-recorded vocals and instrumentals.   
Both mjf originals pieces are part of mjf2022, which takes places from May 20 – 29 in venues including Escape to Freight Island, Band on the Wall, St Ann's Church, Forsyth's, Matt & Phred's and The Yard with partners NQ Jazz.  
Steve Mead, our CEO and Artistic Director, said:
"These two inspirational new works continue mjf's tradition of commissioning new music from today's most forward-thinking artists.  
"Following on from mjf's digital commissions, produced during lockdown, we've brought the focus of our support for creative jazz artists into the public realm and want to provide audiences with surprising musical experiences at key Manchester landmarks. 
"I'm looking forward to the audience responses and think both Fountains and Ensō will provide some memorable festival moments for everyone who encounters them." 
mjf originals is mjf's scheme to commission boundary-pushing new work that is artist-led, northern-focussed and champions artists from all backgrounds. 
manchester jazz festival is back for 10 days of unmissable musical moments across the city this May!
From May 20-29, mjf2022 will see gigs taking place across Manchester celebrating the latest up and coming talent from across the North, and the best names in contemporary jazz including Nubya Garcia, Tim Garland, Anthony Joseph, Zoe Rahman, Rum Buffalo and Daniel Casimir.
The festival opens with a free weekender at Escape to Freight Island from May 20-22, will stage weekday gigs at St Ann's Church, nightly gigs at Matt & Phreds, events at Forsyth Music and at The Yard with partners NQ Jazz, and close with an extended weekend-long party at Band on the Wall from May 26-29.
Free to access music and activity will also take place at outdoor locations across the city centre.
Tickets are on sale now.
Highlights of the festival programme are as follows:
Escape to Freight Island, 20-22 May
Daniel Casimir, Xhosa Cole Quartet, Intergalactic Brasstronauts, Emma Johnson's Gravy Boat, Dirty Freud, Mamilah, Dilettante, Sarah Heneghan: Power Out, Kara, Nguvu, The Deportees, Abbie Finn Trio, Timeline, Ain't Misbehaving, family friendly activities, DJs all weekend.
The Yard, presented in association with NQ Jazz, 23-25 May
Anthony Joseph, Emma Rawicz Quintet, Alex Hitchcock's Dream Band.
St Ann's Church, 23-27 May
Zoe Rahman, Skylla, Brigitte Beraha's Lucid Dreamers, Sara Colman & Rebecca Nash.
Matt and Phreds, 20-29 May
Jeremy Sassoon Quartet, Heavy Beat Brass Band, Alligator Gumbo, Honey Bee Jazz, Rum Buffalo, Baiana, Nonunonu, Shapeshifters, M&P x mjf Open Jam night.
Band on the Wall, 26-29 May
Nubya Garcia, Mulatu Astatke, Tim Garland Group, Gary Crosby Sextet: Mingus Moves, Ayanna Witter Johnson, Hackney Colliery Band.
Forsyth Music, 27 May
The Ronnie Scott's Trio featuring James Pearson – Remembering Oscar Peterson: A portrait of a jazz legend.
Steve Mead, mjf CEO and Artistic Director, said: "After two years of staging online and restricted live events throughout the pandemic, we simply can't wait to welcome you back to our 10-day festival, to share some hugely exciting artists at a host of venues across the city.
"Our Escape to Freight Island weekender was a hit with audiences last year so we've been sure to include them in our programme again. We're also thrilled to team up with the newly reopened Band on the Wall, and revisit some firm favourites such our St Ann's Church
recitals, the ever-popular Matt and Phreds and our partnership with NQ Jazz, whose events are always a huge hit with audiences.
"As well as taking audiences on a journey across Manchester's iconic venues, we're bringing you an array of the very best players, and some surprise happenings that you'll be able to experience for free across the city centre. We can't wait for you to join us."
Buy tickets and browse the full mjf2022 programme here.