We are back! #mjf2023 is taking shape with our full line-up announced this morning and on sale via Eventbrite.
And what a strong line-up it is from, as always, the best new emerging UK jazz artists (Rosie Frater-Taylor, Romarna Campbell, Marcus Joseph) to actual living jazz legends (Billy Cobham, Fred Wesley & The New J.B's).  Learn more below and browse our full line-up here.
Opening Weekender: mjf@First Street 
Our free opening weekender celebrates the breadth and individuality of our home-grown scene: bands from, or with a strong connection to, the north. It's also about shining the spotlight on artists who've journeyed through some of our talent development programmes in recent years. 
As well as some of the north's leading artists gracing our Main Stage (Ni Maxine, Wizards of Twiddly, Yemi Bolatiwa) on Friday and Saturday, you can check out some of the Greater Manchester 18-25s bands from our Soundcheck and hothouse artist development programmes on the Garden Stage (Nasa Parka, Moby Dickless, Rory A Green). Accomplished performers in more intimate settings adorn the Home Stage (Moore & Fairhall, Good Habits) throughout each day. 
On Sunday we partner with Jazz North to celebrate 10 years of the northernline touring support scheme: on the Main Stage, we'll showcase five acts selected by industry bigwigs to be elected onto the 2023 artist roster. 
Matt & Phred's  
Matt & Phred's at Manchester Jazz Festival 2023 shines the spotlight on bands and musicians who showcase styles of jazz from different parts of the world (Henry Botham's New Orleans Piano Gumbo, Baiana); whilst staying true to our ethos of supporting and championing local and independent musicians (The Chanteuse, Cuba Vida Salsa Band). Clarinettist Arun Ghosh makes a welcome homecoming appearance to round off our opening weekender, and we end the week in true M&P's style, with a massive brass party. 
St Ann's Church 
A firm favourite venue for mjf regulars, at St Ann's, we welcome a selection of the UK's most respected and cherished established players in intimate acoustic performances (Freight Train, Robert Mitchell, Stan Sulzmann & Nikki Iles) that bring you close to the music. Artistry, expertise and virtuosity, set in an oasis of calm in the bustling city centre. 
Closing weekend at Band on the Wall 
The very best in energetic, contemporary UK and international jazz talent (Mica Millar, Julie Campiche, Buena Vista Social Club's Eliades Ochoa) – from legends to fast-rising names to watch, many on their Manchester debuts, and all in a classic club setting. 
Don't forget the events we've already announced with NQJazz, The Blues Kitchen and un.procedure's new commission Themory – and there's yet more to discover at Forsyth's and Albert Hall.
We can't wait to welcome you!
Hothouse is now in its seventh round and we are delighted to welcome 6 of the best Manchester based jazz musicians to the fold. Featuring a  Mercury nominated saxophonist to the unruly prince of electronica and one of Vini Reilly's collaborators, click HERE to discover our artists.
We are delighted to announce that Mica Millar will be at mjf 2023, playing Band on the Wall, on Thursday 25th May.
"A star with intense emotional sincerity is born. 'Heaven Knows' is an outstanding debut album"
(Blues & Soul Magazine)
"There's nothing remotely tentative about any of this. The songwriting is assured, the production consistently on the money and the voice…well that's the whole point" 
(Wall of Sound)
 "Millar put on a masterful show….her audience mesmerised by an alluring vocal talent" 
(Record Collector)
Releasing her debut album 'Heaven Knows' to critical review earlier this year, Mica Millar has quickly become the UK's brightest new Soul star, picking up Jazz FM's prestigious 'Soul Act of The Year 2022' award alongside a nomination for 'Breakthrough Act of The Year' and featuring on the front covers of iconic magazines like Blues & Soul and Echoes, amidst an array of five star album and live reviews, plus champions at national radio including the likes of BBC Radio 2's Trevor Nelson and 6 Music's Craig Charles.
Following two monumental album launch shows in September including a sold out show at the capital's prestigious Jazz Café and a special hometown performance filling out the iconic Albert Hall, Manchester, Mica has announced her first UK tour for May 2023. She'll be returning with her hotly-tipped seven-piece band to Jazz Cafe London on 5th May with show at Liverpool's Epstein Theatre on 21st May, Manchester's Band On The Wall on 25th May and The Wardrobe Leeds on 30th May presented by Manchester and Leeds Jazz Festivals with additional UK and European dates still to be announced.
More festival announcements to follow…
​
THEMORY is an audiovisual installation presented by Manchester Jazz Festival, drawing from the subjective and fluid forces of family and history, place and time. Telling a collective story through a collage of memories, heard and seen, the audience will be propelled through a thematic narrative, bound together by a backdrop of past and present Manchester.
The idea took root after lead band member, Piera, was given hours of video tapes from her dad of her family in rural Ukraine, which he had filmed thirty years ago. It led to conversations about the subjectivity of how memories and history become part of our lives, however indirect.
The installation is built around its audience – featuring footage collected on a local scale, THEMORY remembers what its contributors have forgotten; secondhand, long-shelved or passed down footage, photographs and audio are central to the project. An emotive score will accompany this, realised by un.procedure, using specialised sound to create an immersive environment for its audience.
More information on how you can get involved to follow! 
Discover un.procedure here
manchester jazz festival is delighted to share news of our successful bid for ongoing Arts Council England funding for a further three years, as part of the new NPO portfolio.
This funding means we can support and deliver:
Artists, audiences and the creative sector to deliver our annual festivals
New commissions
Our cherished artist development programmes for creatives across the north of England
The curation of an inspiring new festival hub
The evolution of our international partnerships
Here's what our Artistic Director & CEO Steve Mead has to say on this welcomed news, "We're incredibly grateful for ACE's continued investment and confidence in our vision. We can't wait to get started on the next stage in mjf's development, working up to 2025-6: mjf's 30th anniversary year. It's also a humbling recognition of the work we do behind the scenes to nurture artists' careers and creativity, and to offer festival audiences new music experiences they simply can't get elsewhere."
"I'd also like to take the opportunity to recognise the valued achievements of peers who weren't so lucky with this funding round. We are all connected in the jazz and wider music sector, and mjf will continue to work in partnership with a wide range of collaborators, for our mutual growth and audience engagement."
Arts Council England Chief Executive, Darren Henley, said: "Together, each of the 990 organisations that have been offered funding today will contribute to a portfolio that is rich, varied and truly national. This is our widest ever spread of investment across the country, ensuring that many more people will have access to a wider choice of exceptional art, culture and creative opportunities on their doorsteps. We are in tough times but we must remember creativity brings with it extraordinary dividends, boosting our country's economic growth, creating jobs, bringing communities closer together, and making us happier as individuals. Everyone deserves to enjoy the benefits it brings, and with this investment, we believe we've taken a decisive step towards making that vision a reality."
What are the data headlines for Arts Council England? 
£446 million per annum of investment to bring art, culture, and creativity to more people, in more places, across the country
990 organisations will receive a share of £446 million investment, including 276 new organisations of all shapes and sizes
Each year, Arts Council England are investing £43.5 million in Levelling Up for Culture Places across the country
See more on Arts Council England's 2023-26 Investment Programme on their website: www.artscouncil.org.uk/investment23
Soundcheck is now in its third year and we are once again opening our doors to the best young Jazz Musicians. Click HERE to learn more about each as well as the programme itself.
On the 23rd October, our 10 soundcheck artists gathered at The Met, Bury to work on their pieces for the programme. The day ran from 3-10, testing the soundcheckers' stamina, stealth & skill. In groups of three, each had a designated 2 hours with Ed Kainyek & his talented band to practise, improvise &…JAM! For some this was their first time performing with a full band and we were so incredibly proud of not just their boldness but openness to the process.
The rest of the day was jam packed with workshops from not only our Artistic Director Steve Mead, but the accomplished cellist, Gary Washington & 'hypnotic & heart skipping' Jazz Artist & creative producer, Kirsty Almeida.
Follow our socials to see what these bright young musicians do next!
We are deeply saddened to hear of the death of Her Majesty The Queen.
HM The Queen was a steadfast supporter of the arts, and of music in particular, and was, surprisingly, a noted jazz and blues fan. She met and honoured many of our music's leading exponents, from Duke Ellington to Dame Cleo Laine, Gary Crosby and the late John Cumming.
At their meeting at Leeds Civic Hall in 1958, Duke Ellington was inspired to compose The Queen's Suite for her, which remained unheard by the general public until 1976. Gary Crosby OBE, who joined us earlier this year as a guest on mjf's Fantasy Festival podcast, speaks of his surprise and joy at their recent discussion about amplifying acoustic instruments.
We will all have our own thoughts and recollections on the impact of her remarkable reign and its legacy. Our thoughts and condolences are with the Royal Family, and with all those touched by her passing, at this very sad time.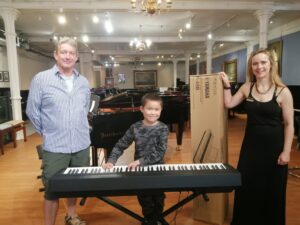 mjf2022 piano trail competition winners
We're delighted to announce the winners of the mjf piano traill 2022, delivered in partnership with the world renowned Forysth's Music Shop of Deansgate!
The top prize winner is nine year old Leo Cheung from Beswick who performed his own composition. On receiving his prize Leo said "Fantastic! I never dreamed I'd win first prize". The full list of prize winners is:
Special thank you to the Spinningfields branch of Wagamama for offering a £30 Wagamama gift voucher to each winner.
About the mjf 2022 piano trail
13 street pianos were dotted around the city for passers-by to play in the build up to this year's jazz festival. Over 2000 pianists, young and old bought the city alive with music and the search to find Manchester's best street pianist resulted in over 100 entries.  
The 13 pianos were located at The Arndale Centre, The Corn Exchange, Forsyth Music shop, Great Northern, Harvey Nichols, Manchester Art Gallery, Manchester Central Library, Manchester Piccadilly Station, Quayside Media City UK, Royal Exchange Arcade, Spinningfields, The Trafford Centre and Manchester Victoria Station.  
Praise for Leo and all the winners
"Congratulations Leo on winning this year's MJF Piano Trail competition! Your performance was fabulous and all of us at Yamaha were super impressed with your composition too! Enjoy your prize and keep playing, you'll be a star one day!"  – James Sargeant, Yamaha
"It's been a fun if tough job whittling down the many and varied competition entries to find the eventual winners. We were impressed with Leo's creativity and poise at the piano at such a young age! We are sure Leo will benefit from the Yamaha digital piano he has won and look forward to watching him grow as a composer and pianist!' – Emma Loat, Manager of Forsyth's Music
"Leo's skill and musicality combined with his amazing creativity impressed us all. He's a worthy winner of the mjf piano trail competition." – Steve Mead, Manchester Jazz Festival
We're delighted to reopen applications to 3 of our artist opportunities – mjf soundcheck, hothouse and originals.
We support and champion creative musicians – from Greater Manchester, across the north and internationally. mjf offers tailored development schemes and performance opportunities for every career stage, both at the festival and throughout the year. If you're working in jazz and improvised music – we have something for you.
We are interested in making an impact on artists, so we make sure we invite people onto the right schemes at the right time for them. All of our programmes generate new music, diversify the jazz sector and offer meaningful support where it is most needed.
If you're a musician based in Greater Manchester, aged 18-25, and want to explore improvisation for the first time, take a look at mjf soundcheck. The FREE, 8-week programme supports musicians to try out new things and be supported to grow creatively, through 1-1's with a mentor, links with Industry Professionals and more.
Mid-career artists based in the north, who are encountering barriers to creative development and want to experiment with new musical concepts, might apply to mjf hothouse to take their career to the next level. This PAID 6-month programme includes working alongside a mentor, personalised workshops, up to £2,300 cash for the creation of new work and an industry showcase.
For a commission to produce a major brand-new piece for the festival, head to mjf originals. Through this you will be supported to create a large-scale, contemporary, boundary-pushing new work with northern artists.
There are no upper age limits for originals or hothouse.
Alongside these opportunities, applications to perform at mjf2023 are also open and accepting submissions. If you want to be considered for the 2023 programme, please submit via the artists' submissions by December.