Booking Tickets:
mjf at Escape to Freight Island is entirely free to book; you are just required to reserve a table (similar to if you were visiting a pub or restaurant). Your table will be booked for 2 hours for parties of up to 4, and 2 hours 30 minutes for parties of 5+.
All our events are free, but you'll be asked to give card details at the time of booking as Freight Island will charge a £10 cancellation fee if you don't cancel your table within 24 hours notice of attending your chosen booking.
You can reserve a table for a specific area, date and time. Tables are booked on a first come, first served basis and we can't guarantee where you'll be seated within each area.  You will NOT be allowed to float around between venues, so make sure that when you book you are booking for the venue and time corresponding to the acts you wish to see. You are allowed to book multiple time slots across the days and weekend, for example you could book for Saturday from 12.00 – 14.30 in The Ticket Hall, 14.30 – 17.00 in The Round and then 17.00 – 19.30 in The Pavilion if you wished!
Be sure that wherever you sit and when, it will be an amazing three days of unmissable music, great food and drinks in one of Manchester's most exciting new venues.
The Ticket Hall is the main large indoor space at Freight Island, with a raised stage area and a variety of seating locations.
The Pavilion is a smaller, covered marquee situated in the outside area, with a smaller stage and seating in a more intimate setting.
The Round is an outdoor covered bandstand area surrounded by covered seating, tables and booths.
How to book 
Make a note of what day and time you want to come along and the area of the venue you want to sit in and click the booking link at the bottom of this page.
Once you've selected the day, time and size of your party, click 'find table', then select the available times you want.
For gigs in the Ticket Hall, when selecting seating type, select 'Standard', then 'A seat on the platform' to sit near to the band, or select 'Manchester Jazz Festival' to sit elsewhere indoors.
For gigs in The Pavilion or The Round, select 'Outdoor', then select 'Manchester Jazz Festival' to sit near The Round, or 'A seat in the Pavilion' to sit in The Pavilion.
Find details on the different stages and performances below:
The Ticket Hall (select 'standard' on your booking and then 'The Platform' for the best view)
Yemi Bolatiwa
18.00 – 18.30, 19.30 – 20.00, 21.00 – 21.30, 22.30 – 23.00
London born & bred soul singer Yemi hails proudly from the Manchester music scene, with a firm foot in the door of the live and electronic music circuit. 
A multi-faceted soul artist who has worked with a host of labels and independent artists alike, her experience and prowess in electronic music extends into her live experimental soul act. Yemi will perform with a seven-piece outfit delivering soul, confessional RnB lyricism and heavy synth. 
Check out her latest release Water for a taste of the orchestral and cinematic soul route along which she is taking her writing and performances.
The Round
(select 'outdoor' on your booking)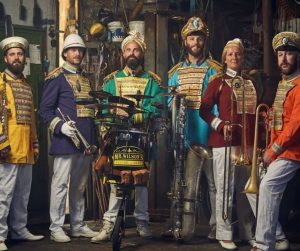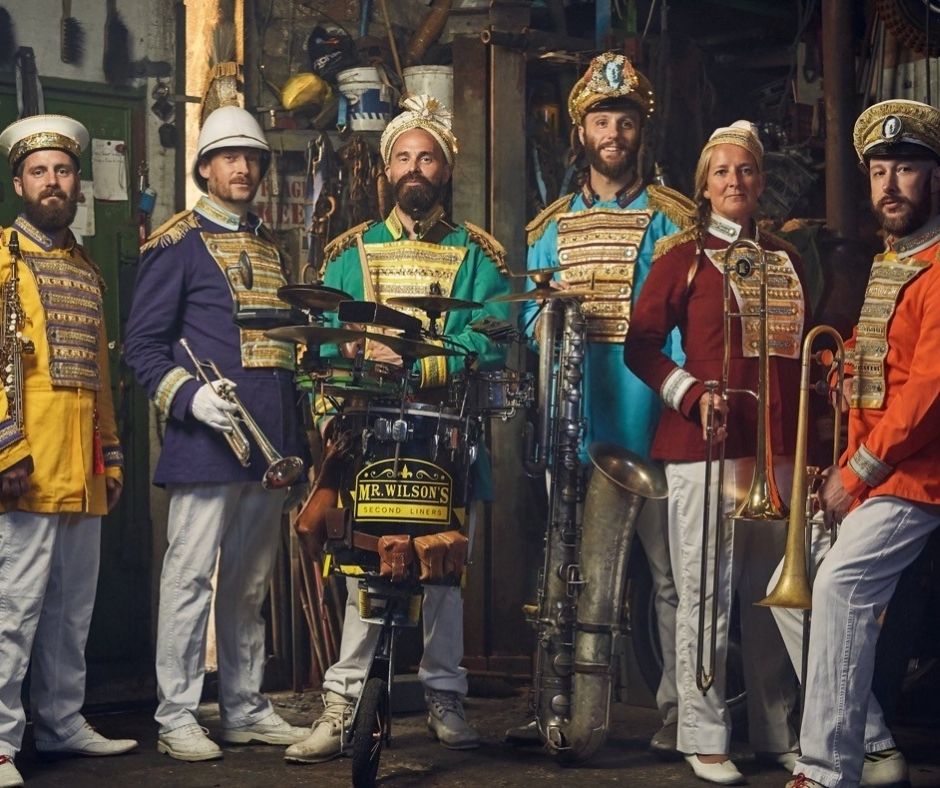 Mr Wilson's Second Liners
18.30 – 19.15, 20.00 – 20.45
This band needs no introduction!
If you missed the 90s in Manchester, Mr Wilson's Second Liners will take you back to an era missed by almost every Mancunian who raved. In New Orleans, funerals are celebrated in style, with noisy brass bands processing through the streets. The main section of the parade is known as First Line, but the real fun starts with the Second Line, those who follow the band to enjoy the music, marching with the musicians and twirling parasols or waving handkerchiefs. Quintessential New Orleans meets 90s club classics…a rave funeral without the body.
The Pavilion (select 'outdoor' on your booking and then 'Pavilion')
Rebecca Nash: Redefining Element 78
18.00 – 18.30, 19.15 – 19.45, 20.45 – 21.15 
Pianist, composer and collaborator Rebecca Nash defies categorisation. Established as one of the brightest and boldest jazz talents in the UK, she is now garnering international recognition for her wide-ranging music, which draws on influences from electronica, rock, drum and bass, soul-jazz, and singer-songwriters, to create a distinctive personal sound full of artistry and heart. 
Following her recent band Atlas, her new project – inspired by the platinum metal family in the periodic table! – focusses on the crossover between science and jazz. Bringing together some of her favourite players, including trumpeter Nick Malcolm and saxophonist John O'Gallagher, the music is as melodic and rewarding as ever. 
"At the vanguard of innovative and compelling new music" (Downbeat Magazine); "simply stunning" (UK Vibe). 
DJs
Pablo Blanquito
17.00 – 00.30
Danielle Moore
00.30 – 02.00