Booking Tickets:
mjf at Escape to Freight Island is entirely free to book; you are just required to reserve a table (similar to if you were visiting a pub or restaurant). Your table will be booked for 2 hours for parties of up to 4, and 2 hours 30 minutes for parties of 5+.
All our events are free, but you'll be asked to give card details at the time of booking as Freight Island will charge a £10 cancellation fee if you don't cancel your table within 24 hours notice of attending your chosen booking.
You can reserve a table for a specific area, date and time. Tables are booked on a first come, first served basis and we can't guarantee where you'll be seated within each area.  You will NOT be allowed to float around between venues, so make sure that when you book you are booking for the venue and time corresponding to the acts you wish to see. You are allowed to book multiple time slots across the days and weekend, for example you could book for Saturday from 12.00 – 14.30 in The Ticket Hall, 14.30 – 17.00 in The Round and then 17.00 – 19.30 in The Pavilion if you wished!
Be sure that wherever you sit and when, it will be an amazing three days of unmissable music, great food and drinks in one of Manchester's most exciting new venues.
In line with COVID-19 restrictions, table service will be available for food and drink during the event.
The Ticket Hall is the main large indoor space at Freight Island, with a raised stage area and a variety of seating locations.
The Pavilion is a smaller, covered marquee situated in the outside area, with a smaller stage and seating in a more intimate setting.
The Round is an outdoor covered bandstand area surrounded by covered seating, tables and booths.
How to book 
Make a note of what day and time you want to come along and the area of the venue you want to sit in and click the booking link at the bottom of this page.
Once you've selected the day, time and size of your party, click 'find table', then select the available times you want.
For gigs in the Ticket Hall, when selecting seating type, select 'Standard', then 'A seat on the platform' to sit near to the band, or select 'Manchester Jazz Festival' to sit elsewhere indoors.
For gigs in The Pavilion or The Round, select 'Outdoor', then select 'Manchester Jazz Festival' to sit near The Round, or 'A seat in the Pavilion' to sit in The Pavilion.
Find details on the different stages and performances below:
The Ticket Hall (select 'standard' on your booking and then 'The Platform' for the best view)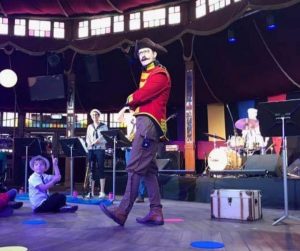 Ain't Misbehavin'
10.30 – 11.00, 11.30 – 12.00
Ain't Misbehavin' serve up interactive concerts for the young and the young at heart! 
They'll gently warm our ears up for the day with 'There Once Was a Bird' at 10.30am. Then at 11.30am we'll climb on board the good ship 'HMS Syncopation' for a trip around the world, creating a vibrant, rhythmic fruit salad.
These performances by the Ain't Misbehavin' band are geared towards children aged between approximately 6 up to 11 years old. 
Yaatri
13.00 – 13.30, 14.00 – 14.30, 15.00 – 15.30
Influenced by the momentum of the rhythms of India, immersive quality of electronic music, and energy of rock and roll, Yaatri's music captivates the heart as well as the mind. Their sound is steeped in cultures from around the world, and their appeal equally far-reaching.  
Led by guitarist Liam deTar and fronted by the ethereal vocals of Bethany Herrington, the quintet's combination of thoughtful songwriting, collective improvisation and live electronics all contribute to a spiritually transportive experience. 
Camilla George 
16.00 – 16.30, 17.00 – 17.30, 18.00 – 18.30

Camilla George – Mobo-nominated, Nigerian-born saxophonist and star of the award-winning Jazz Jamaica leads her own critically-acclaimed project showcasing the stars of the new UK jazz scene. Dubbed "the golden girl of jazz" by the Evening Standard, her love of fusing African and Western Music into her own distinctive style makes her a firm fixture on the new London Jazz scene, alongside peers such as Nubya Garcia, Shabaka Hutchings and Zara McFarlane. 
Her music is a hypnotizing blend of Afrofuturism, hip hop and jazz. Politically minded and heavily linked with African history, and in particular slavery, her latest album, The People Could Fly, demonstrates her growth as a composer and bandleader.
Nubiyan Twist
20.00 – 20.30, 21.00 – 21.30, 22.00 – 22.30
A blend of virtuosic players, skilled producers and inspired composers join forces to create a unique, infectious sound drawing on jazz, hip-hop, afrobeat, latin, soul, reggae and dance music – expect ultra-tight musicianship and a powerful 10 piece, big band sound. 
Nubiyan Twist released their newest album 'Freedom Fables' on Strut Records in March 2021, the follow-up to the acclaimed 'Jungle Run' from Spring 2019. 
The Round (select 'outdoor' on your booking)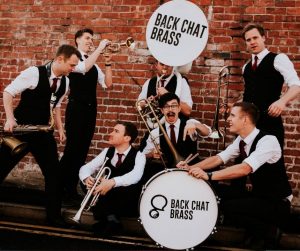 Back Chat Brass
12.30 – 1.00, 1.30 – 2.00, 2.30 – 3.00, 3.30 – 4.00  
 Back Chat Brass have been wreaking havoc in venues around the world since 2016, coaxing even the stubbornest of dance-phobics from their seats with their signature take on your go-to hits. Rooted in pop, funk and hip hop, their brassy beats give soul to any party and lift the roof at any gig.  
Young Pilgrims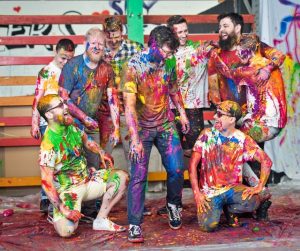 17.00 – 17.30, 18.00 – 18.30, 19.00 – 19.30, 20.30 – 21.00 
A raucous, upbeat, rock-influenced blast of brassy fresh air from these festival favourites, with their explosive nine-strong line-up, featuring trumpets and trombones alongside the baritone sax, sousaphone and two drummers, driving the band's high-energy rhythmic groove. 
Growing out of the thriving Birmingham jazz scene, Young Pilgrims have drawn fans from across Europe and beyond with their intense, interactive live performances – on bandstands and amongst the enraptured crowds, from the Commonwealth Games to London's South Bank; the Paris Jazz Festival to Love Supreme. 
The Pavilion (select 'outdoor' on your booking and then 'Pavilion')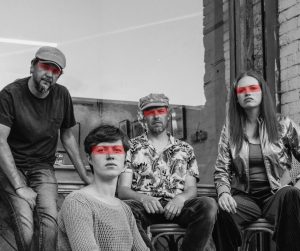 Rafe's Dilemma
13.00 – 13.30, 14.00 – 14.30, 15.00 – 15.30
Find yourself immersed in synthesised soundscapes, electronic improvisation & spoken word, exploring the multitude of emotions we all experience towards our families. Featuring Nel Begley, Jamil Sheriff, Katie Patterson and Pete Turner, the quartet pulls influence from jazz, electronica and rock. 
Rafe's Dilemma is a Jazz North northern line ambassador artist, supported by Jazz North using public funding from Arts Council England.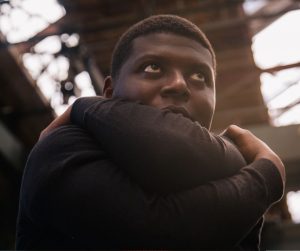 Marco Woolf
17.30 – 18.00, 18.30 – 19,00, 19.30 – 20.00
Stories lie at the heart of Marco Woolf's work. During his live shows, the Manchester based singer-songwriter often shares improvised stories or poems, weaving a narrative throughout his set. 
Influenced by the blending of folk and jazz by artists such as Nick Drake and John Martyn, Woolf's music is delicately composed, reflective and sensitive. 
DJs
Debra Richards (Worldwide FM)
13.00 – 19.00
Harkirit Boparai (Jazzdance!)
19.00 – 23.30