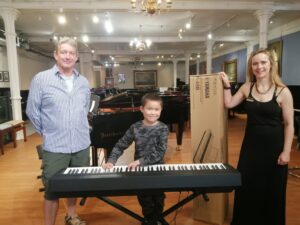 mjf2022 piano trail competition winners
We're delighted to announce the winners of the mjf piano traill 2022, delivered in partnership with the world renowned Forysth's Music Shop of Deansgate!
The top prize winner is nine year old Leo Cheung from Beswick who performed his own composition. On receiving his prize Leo said "Fantastic! I never dreamed I'd win first prize". The full list of prize winners is:
Special thank you to the Spinningfields branch of Wagamama for offering a £30 Wagamama gift voucher to each winner.
About the mjf 2022 piano trail
13 street pianos were dotted around the city for passers-by to play in the build up to this year's jazz festival. Over 2000 pianists, young and old bought the city alive with music and the search to find Manchester's best street pianist resulted in over 100 entries.  
The 13 pianos were located at The Arndale Centre, The Corn Exchange, Forsyth Music shop, Great Northern, Harvey Nichols, Manchester Art Gallery, Manchester Central Library, Manchester Piccadilly Station, Quayside Media City UK, Royal Exchange Arcade, Spinningfields, The Trafford Centre and Manchester Victoria Station.  
Praise for Leo and all the winners
"Congratulations Leo on winning this year's MJF Piano Trail competition! Your performance was fabulous and all of us at Yamaha were super impressed with your composition too! Enjoy your prize and keep playing, you'll be a star one day!"  – James Sargeant, Yamaha
"It's been a fun if tough job whittling down the many and varied competition entries to find the eventual winners. We were impressed with Leo's creativity and poise at the piano at such a young age! We are sure Leo will benefit from the Yamaha digital piano he has won and look forward to watching him grow as a composer and pianist!' – Emma Loat, Manager of Forsyth's Music
"Leo's skill and musicality combined with his amazing creativity impressed us all. He's a worthy winner of the mjf piano trail competition." – Steve Mead, Manchester Jazz Festival